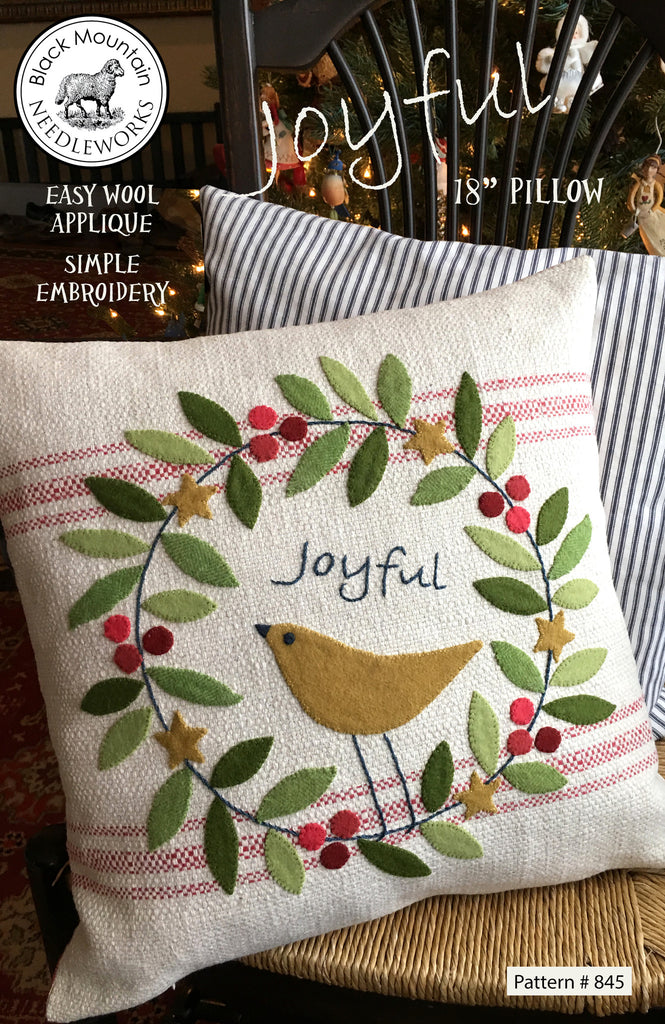 BESTSELLER: Joyful Pillow Pattern--printed pattern
18" x 18" wool pillow pattern.
Easy wool applique by hand or machine, your choice (instructions included for both).

Simple embroidery with clear instructions and diagrams.

Working with felted wool is easy and addictive! It can be done quickly by machine or relaxing hand sewing (my favorite). For more information, click on Working with Wool at top of homepage.
This is a PRINTED pattern that will be shipped to you with a small shipping fee. If you prefer a PDF download that is emailed (no shipping fee), shop for "Joyful Pillow Pattern--download PDF pattern" instead.
FABRIC INFO: After receiving many requests, I sold the fabric for a while, but my own supply is now sold out. You can find the fabric online by searching for

French Laundry Parisian Stripe Red

. Fabric is 80% cotton 20% linen with a nubby texture and mid weight. Sells for about $38 per yard. You need a piece 22" x 22". Purchase 5/8 yard for 22-1/2" tight fit or 3/4 yard for 27" generous fit. Width is 54", so you might end up with enough for 2 pillow fronts. I only used this fabric on the front. On the back, I used a regular-weight red ticking stripe.